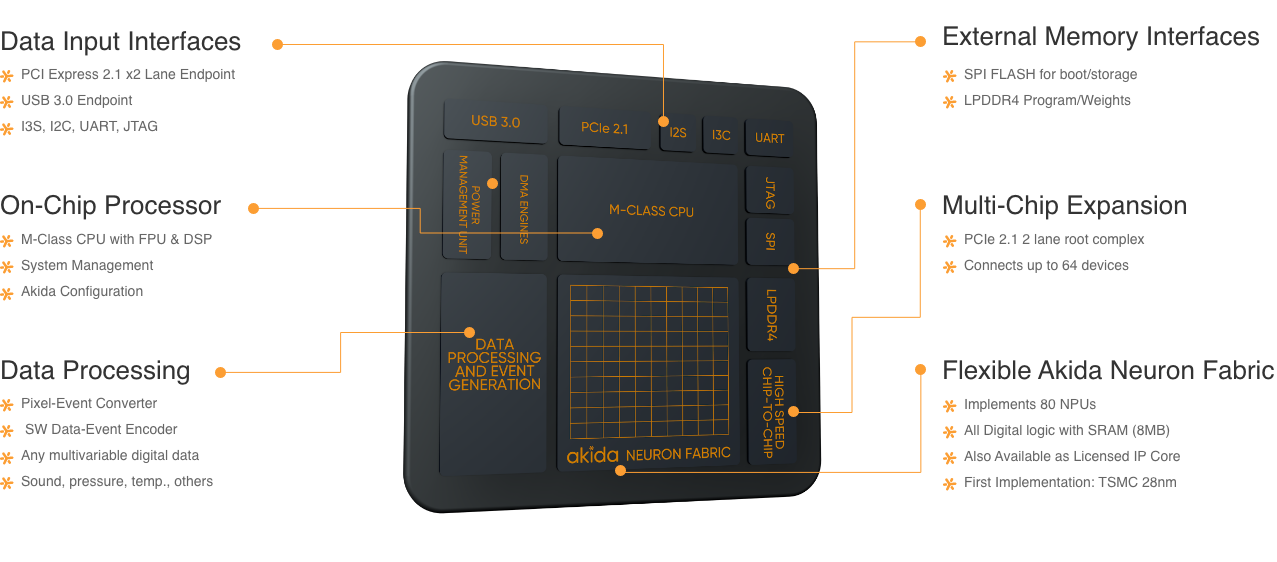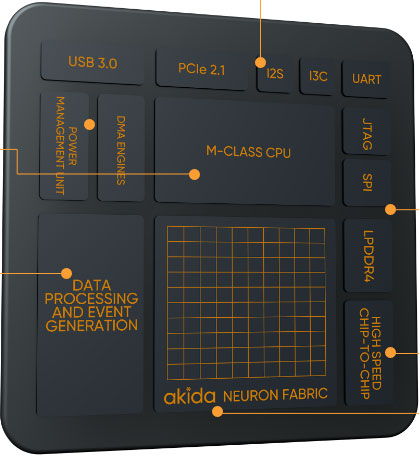 PCI Express 2.1 x2 Lane Endpoint
USB 3.0 Endpoint
I3S, I2C, UART, JTAG
M-Class CPU with FPU & DSP
System Management
Akida Configuration
Pixel-Event Converter
SW Data-Event Encoder
Any multivariable digital data
Sound, pressure, temp., others
External Memory Interfaces
SPI FLASH for boot/storage
LPDDR4 Program/Weights
PCIe 2.1 2 lane root complex
Connects up to 64 devices
Flexible Akida Neuron Fabric
Implements 80 NPUs
All Digital logic with SRAM (8MB)
Also Available as Licensed IP Core
First Implementation: TSMC 28nm
Reference Chip
as a Hardware Accelerator
Place an AKD1000 with its accompanying software development ecosystem next to an MCU or CPU where it can accelerate AI compute tasks.
BrainChip's software development ecosystem and runtime are seamlessly compatible with any CPU hardware and are OS agnostic.
AKD1000
Hardware Accelerator

Akida AKD1000 has several key features differentiating it from other neural network processors and deep learning accelerators.
Event-based computing leveraging inherent data and activation sparsity
Fully configurable neural processing cores, supporting convolutional, separable-convolutional, pooling, and fully connected layers
Incremental learning after off-line training
On-chip few-shot training
Configurable number of NPUs
Programmable data to event converter
Configurable on-chip SRAM memory
Runs full neural networks in hardware
On-chip communication via mesh network
On-chip learning in event domain
Process technology-independent platform
Network size customizable to application needs
IP deliverables include: RTL, dev tools, test suites, and documentation
Event-based NPU engines running on a single clock
BrainChip's AI Enablement Program makes entry to edge AI simple and real.
Each of our tiered programs brings you from concept to working prototype with varying levels of model complexity and sensor integration. In addition, our AI experts provide training and support to make the process efficient and smart.