The world's first commercial producer
of neuromorphic IP.
BrainChip brings common sense to the processing of sensor data, freeing machines to do more with less, enabling them to infer the big picture from the basics.
Accurately. Elegantly. Meaningfully.
We call this Essential AI. Essential is optimizing compute. Maximizing performance. Minimizing power. In the real world. And in real time. We're proving that on-chip AI, close to the sensor, has a sensational future, for our customers' products, as well as the planet.

Akida™ is the world's first commercial neuromorphic processor.
It mimics the brain to analyze only essential sensor
inputs at the point of acquisition—rather than through
transmission via the cloud.
Efficient – with unparalleled precision and economy of energy.
Independent – keeping learning local to the chip.
Scalable – Universally deployable to support any sensor data.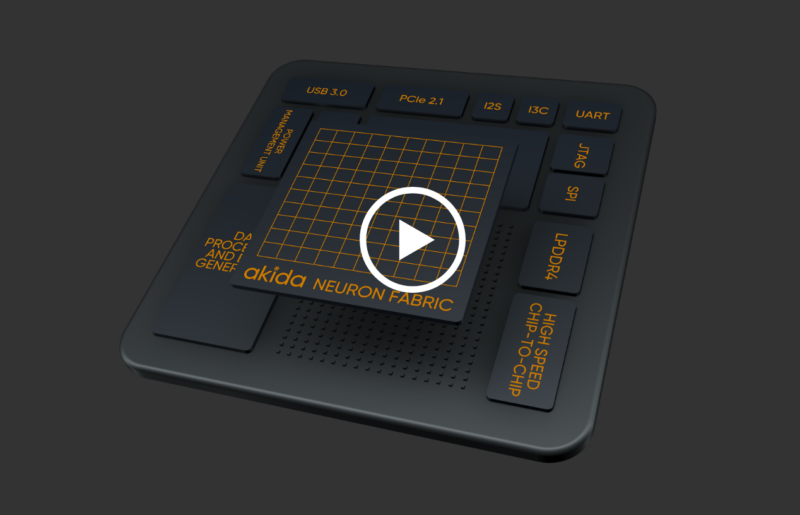 Sensors make digital interaction more straightforward and more meaningful, and smart sensors make edge AI possible.
BrainChip's AI Enablement Program makes entry to edge AI simple and real. Each of our tiered programs brings you from concept to working prototype with varying model complexity and sensor integration levels.
In addition, our AI experts provide training and support to make the process efficient and smart.
Akida creates a truly intelligent edge by accurately identifying, extracting, analyzing, and inferring only the most meaningful data.
Akida reduces the overall attack surface by locally processing, storing, and analyzing sensitive data.
Akida shifts certain tasks and functions to more efficient edge silicon, lowering costs, reducing data center workloads, and decreasing power consumption.
Akida minimizes data movement between endpoints and the cloud, increasing efficiency, reducing latency, and accelerating service delivery. Power Efficient Microwatts
Akida performs up to trillions of operations per second while only consuming microwatts to milliwatts of power. Akida supports ultra-low latency applications by minimizing or eliminating data movement between endpoints and the cloud. Multiple Networks Simultaneously
A single Akida chip runs many different neural networks simultaneously. Akida leverages one-shot learning to improve the hearing, smelling, tasting, and tactile abilities of smart sensors.





University AI Accelerator Program
BrainChip is bringing its neuromorphic technology into higher education institutions via the BrainChip University AI Accelerator Program, which shares technical knowledge, promotes leading-edge discoveries and positions students to be next-generation technology innovators.
BrainChip's University AI Accelerator Program provides hardware, training, and guidance to students at higher education institutions with existing AI engineering programs. BrainChip's products can be leveraged by students to support projects in any number of novel use cases or to demonstrate AI enablement. Students participating in the program will have access to real-world, event-based technologies offering unparalleled performance and efficiency to advance their learning through graduation and beyond.
Current university participants include:


By partnering with BrainChip's AI Accelerator Program, universities are able to ensure that students have the tools and resources needed to encourage development of cutting-edge technologies that will continue to usher in an era of essential AI solutions.
Have your university become AI smarter, join the University AI Accelerator Program today.