BrainChip Files 2016 Annual Report
Aliso Viejo, CA – March 31, 2017, BrainChip Holdings Ltd. (ASX: BRN), ("BrainChip" or "the Company"), is a leading developer of software and hardware accelerated solutions for Advanced Artificial Intelligence and Machine Learning applications. The Company has developed a revolutionary new Spiking Neuron Adaptive Processor (SNAP) technology that can learn autonomously, evolve and associate information just like the human brain. The technology, which is proprietary, is fast, completely digital, and consumes very low power. Target markets include Civil and Commercial Surveillance, as well as Machine Learning.
On March 30, 2017, the Company issued its 2016 Annual Report. The Annual Report features an operational review (letter to shareholders) by the Company's President and Chief Executive Officer Louis DiNardo, in which he highlights the significant progress BrainChip has made with regard to further commercialization and revenue growth. Over the past year, the Company has developed a solid strategic plan; and has made important practical advances with regard to market selection, product definition, and technology development, putting BrainChip in an excellent position for growth in 2017.
The full text of the letter follows:
Review of Operations
During 2016, BrainChip took significant steps to develop a strategic plan that focuses on market selection, product definition, research and development and building a team that can execute a sound commercialization strategy. We have field proven software and algorithms, an extensive new product pipeline that will bring SNAP technology to the forefront of best-in-class Artificial Intelligence solutions, and a growing list of marquee customers and partners: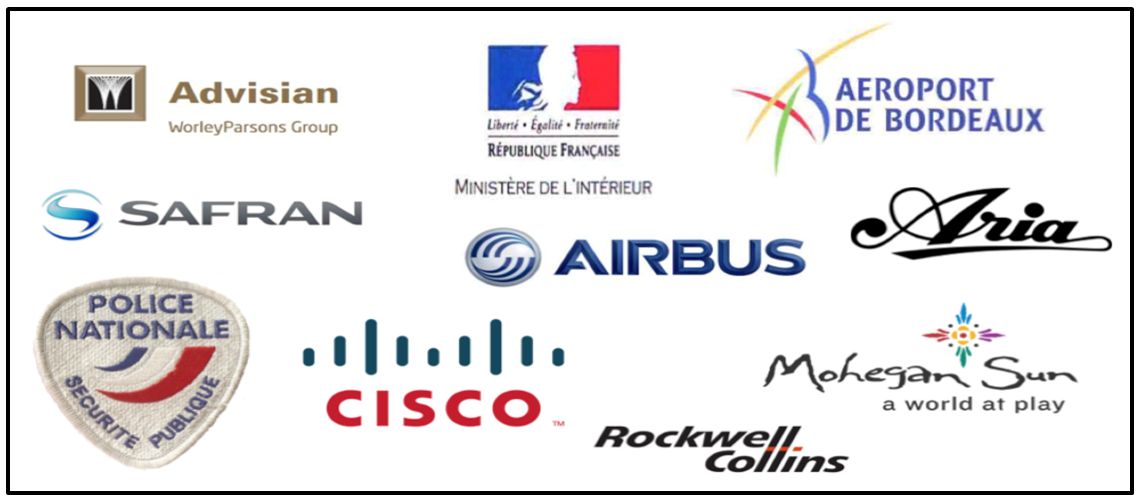 Markets Selection
The market for Artificial Intelligence solutions is broad. Current solutions include Deep Learning, which currently requires extremely large data sets and long training regimens, Autonomous Supervised Learning for feature extraction and pattern recognition with small sample sets, and Autonomous Unsupervised Learning when no sample set exists. With our proprietary Spiking Neural Network, BrainChip excels in Autonomous Learning (Supervised or Unsupervised). Our significant competitive advantages are based on the combination of well-developed algorithms and our hardware-based processor. Most important of these advantages is the speed at which we can extract a feature or identify a pattern within a very small sample set. From a single screen-shot we can review in real-time, or from storage of many hours of video or images, and identify a face or pattern with great accuracy.
BrainChip has made the decision to focus our sales and marketing effort initially on visual applications in Civil and Commercial Surveillance as well as Machine Learning. This decision is based on the large size of the market, the mission critical and immediate demands presented by the threat of terrorism and crime, and manufacturing efficacy. Our SNAP technology is also well suited for applications in FinTech (Financial Technology) such as commodities and high-frequency trading analysis as well as High Performance Computing (HPC) for data analysis in genomics, seismic analysis, natural resource extraction and cybersecurity.
Civil Surveillance
Civil Surveillance includes Autonomous Feature Extraction (AFE) and Pattern Recognition for Law Enforcement and Homeland Security, Airport Security, as well as School Campus Security. BrainChip has existing customers in each of these categories including the Paris Department of Municipal Law Enforcement and the French Department of Homeland Security (the DHS). Our work with the DHS has resulted in their issuance of a strong formal endorsement for the Company's Facial and Pattern Recognition products. During 2016 we built upon this endorsement and added new capabilities that serve their critical requirements in fighting the threat of terrorism. We continue to work with the DHS to add improvements in facial recognition and real-time analysis of live video streams.
We also have existing customers in the Airport Security sector. In Bordeaux, France, BrainChip serves the requirements for perimeter intrusion and airplane security at the Bordeaux-Merignac Airport. Our early success in servicing these needs has resulted in a strong formal endorsement from this customer. Also, in Geneva, Switzerland we serve the requirements of the Operations Centre for Passenger and Restricted Area Surveillance at the Geneva International Airport.
Finally, in 2016, BrainChip made significant inroads into the area of School Campus Security. We currently have one school in New York, U.S., and another municipal school district in New York, U.S., where technical specifications are being reviewed. Deployment for these customers is expected in 2017.
Commercial Surveillance
Commercial Surveillance includes Casino Gaming, Advertising Tracking, Consumer Behavior, and Vehicle Detection. In 2016, BrainChip added customers in the Casino Gaming market. The first of these customers, located in Las Vegas, Nevada, U.S, is one of the largest casinos within the MGM Group (the MGM Group is one of the largest owners of casinos in North America). BrainChip added another significant Casino Gaming customer in 2016, Mohegan Sun, located in Uncasville, Connecticut, U.S. Mohegan Sun is one of the largest independent casino operators in the U.S. We have received numerous inquiries about our Game Outcome solution from casino operators around the world and we are pursuing new opportunities in this space. Our Game Statistics solution will be aggressively marketed to new and existing customers in 2017. We estimate that there are over 2,600 casinos worldwide and over 50,000 gaming tables that would benefit from the use of BrainChip solutions.
In 2016, BrainChip advanced its involvement in the Vehicle Detection arena. The Company is currently collaborating with the Cisco Internet Innovation Center and Curtain University in Western Australia (CIIC) on a two-phase project. Phase 1 involves vehicle detection and identification. Phase 2 involves an in-vehicle camera to help drivers better understand their driving behavior and habits. This project is underway and on schedule. In addition to our work with Cisco, we are working with major automobile manufacturers and/or their suppliers on the potential deployment of our technology in conjunction with their development of autonomous vehicles and Advanced Driver Assistance Systems (ADAS).
Machine Learning
Machine Learning includes Machine Vision and a host of other opportunities in data analytics for financial transactions, genomics, seismic, natural resource analytics and cybersecurity. In 2016, the Company made important advances with regard to Machine Vision. Specifically, we are engaged with customers that require visual inspection for high volume manufacturing as well as mission critical assemblies. Safran, headquartered in Paris and one of France's largest industrial companies in the aeronautics sector, uses our Autonomous Feature Extraction (AFE) and Pattern Recognition competency in a complex assembly process to ensure quality and reliability of the system. Our current strategy is to expand our presence in Machine Learning and Visual Inspection with the development of autonomous drones that can inspect infrastructure and large facilities as well as transportation of products in the natural resources industry.
BrainChip believes that there are numerous other opportunities for the Company to pursue in the natural resources industry. In order to advance this agenda, we signed an agreement in 2016 with Advisian, a consulting group within the WorleyParsons Corporation. The objective of this agreement is to explore and capitalize on important opportunities for our SNAP technology. As our hardware solution, SNAPvision, becomes available in 2017, and this market will be a major focus.
Product Definition
On 15 September 2016, BrainChip announced the acquisition of Spikenet Technology, located in Toulouse, France. Spikenet has been a provider of software-based neural networking technology since its inception in 1999. The company has well developed relationships in Civil Surveillance, Commercial Surveillance, and Machine Vision. The purpose of the acquisition was to accelerate BrainChip's product development plan by integrating the Spikenet algorithms with the BrainChip Spiking Neural Adaptive Processor (SNAP) and learning rules. BrainChip is well positioned to demonstrate leadership products in a broad range of Artificial Intelligence applications. The Company's product road map is depicted as follows: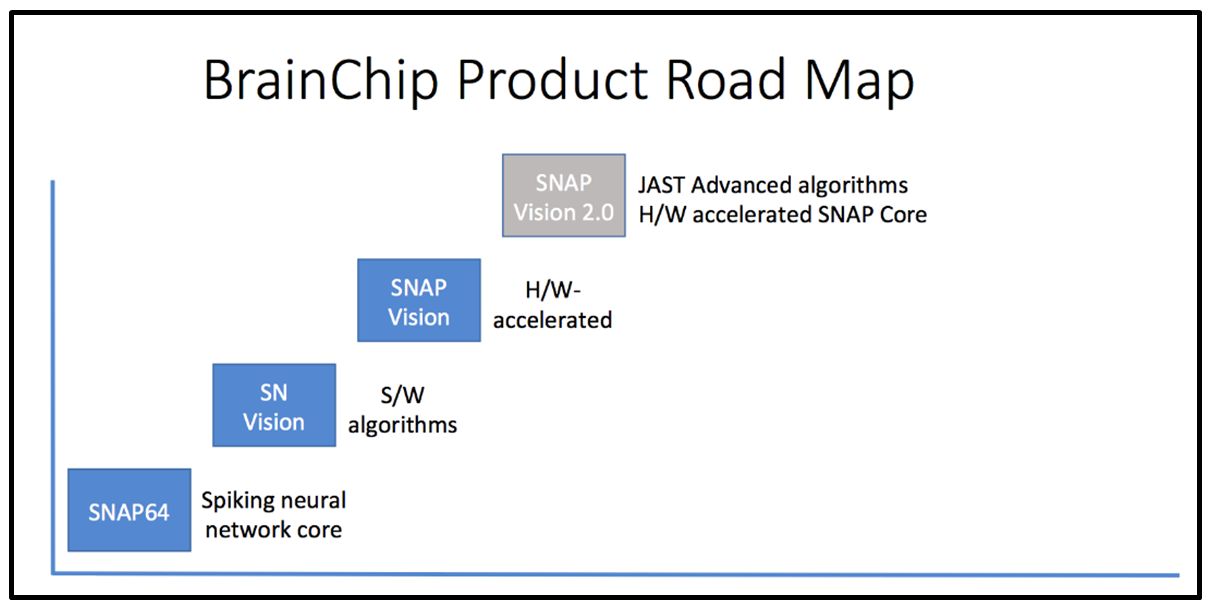 The integration of these technologies will provide a unique high-speed, low-power image and video processing platform for Autonomous Feature Extraction (AFE) and pattern recognition applications. The culmination of this integration will result in a Field Programmable Gate Array (FPGA) SNAP solution that covers a wide-range of complexity and cost points. BrainChip has defined a 4- Channel, 8-Channel and 16-Channel family of products that are PCIe plug-in cards for Linux or Windows video servers which should open up a wide variety of potential customers to the Company. A representation of the BrainChip FPGA is depicted in the figure below: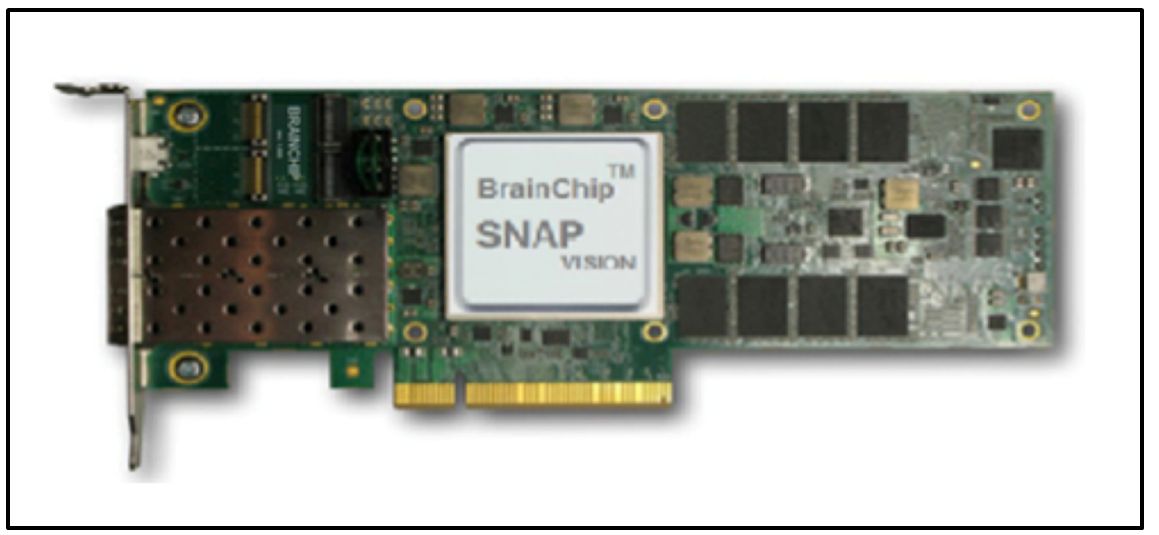 Illustration only – implemented on an FPGA
Research and Development
Research and Development (R&D) includes neuromorphic semiconductor development and neural computing, algorithm development, software, and hardware development as well as integration engineering. BrainChip now has two design centers in which the Company's R&D activities take place. The first center is in Toulouse, France where we have a team of highly skilled engineers that focus on algorithm and software development. This team has developed Facial and Pattern Recognition technology that has been commercially deployed and is based on several generations of development. The second R&D center is located in Aliso Viejo, California, U.S. This team comprises a similarly highly skilled group of engineers who focus on neuromorphic semiconductor technology, hardware development and system solutions. During 2016 and continuing in 2017, we will add significant resources in all areas of R&D.
In the first quarter of 2017, we announced an exclusive license to next-generation learning rules (JAST) and hardware implementation for the CERCO Mind and Brain Cognition Research Center in Toulouse, France. This exclusive license provides BrainChip a new platform for Autonomous Unsupervised Learning. This technology will be implemented on the BrainChip SNAP solution. The result of this integration will be an unparalleled capability for real-time analytics of video and images, audio, and other data streams.
Human Resources
Human Resources includes the establishment of a management team, recruiting and retaining top engineering talent and strengthening our Board of Directors. During 2016, management and the Board of Directors has focused on recruiting a full management team and expanding the skill sets already represented on the Company's Board of Directors. The Company currently employs 24 people and has added senior engineering talent in Aliso Viejo, California, U.S. and Toulouse, France, all of which have significant experience in their respective areas.
Management and Professional Staff
In the fourth quarter of the year, I was hired as CEO of the Company, relieving Peter van der Made who performed the CEO role on an interim basis in concert with his other permanent responsibilities as the Chief Technology Officer.
BrainChip also added a US-based senior finance professional to its team this year, Cossette Drossler. Ms. Drossler joined the Company in November of 2016 as Vice President of Finance and Administration. Ms. Drossler has 30 years of experience as a finance and accounting executive in the San Francisco Bay Area, California U.S.
In the first quarter of 2017 the Company hired Robert Beachler who has joined the Company as Senior Vice President of Marketing and Business Development. Mr. Beachler, a Silicon Valley veteran with over 30 years of success in developing and marketing cutting-edge technologies, is an important hire in support of the Company's mission for growth. His background includes more than 16 years of experience in a variety of engineering and marketing roles at Altera Corporation, a leading provider of Field Programmable Gate Arrays (FPGA) products which was acquired by Intel Corporation in 2015 for over US$16 billion. He has also served as Vice-President of Marketing, Operations, and Systems Design at Stretch Inc., a provider of embedded video processing solutions up until its acquisition by Exar Corporation. While at Exar, Mr. Beachler served as Vice President of Corporate Marketing and Business Development. Most recently, Mr. Beachler served at Xilinx Corporation, the leading worldwide independent provider of FPGA products where he led the marketing of imaging, video and machine learning solutions for industrial, scientific, and medical markets.
Board of Directors
In November of 2016, the Board of Directors recruited Julie H. Stein, a highly seasoned, US-based finance professional. Ms. Stein began her career at Goldman Sachs in 1981. Subsequently, she joined the investment banking firm of Salomon Brothers. She co-founded the investment and development firm of SKS Investments in 1992 and successfully executed a series of joint ventures with major global institutional investors. Over the course of her career, Ms. Stein has been involved with the underwriting, negotiating, structuring and/or placement of financial transactions aggregating over US$10 billion. In addition to holding a number of advanced degrees, Ms. Stein is a National Association of Corporate Directors (NACD) Leadership Fellow and holds a Certificate from Stanford University Directors' College.
Conclusion
In summary, BrainChip made significant progress in 2016. The Company has developed a solid strategic plan with regard to market selection, product definition, technology development and building a team designed for commercialization and growth. The Company has made important practical advances in each of these areas in 2016, putting BrainChip in an excellent position for growth in 2017. Importantly, we have global leaders working with us to define products and we have an excellent design team. We are now building a best-in-class sales and marketing organization to drive further commercialization and revenue growth.
Sincerely,
Louis DiNardo
BrainChip
President and Chief Executive Officer
About BrainChip Holdings Ltd (ASX: BRN)
BrainChip is a leading provider of software and hardware accelerated solutions for Advanced Artificial Intelligence and Machine Learning applications. The Company's Spiking Neural Adaptive Processor (SNAP) can learn autonomously with a small sample set and provide real-time information, data analytics and knowledge in image and video processing applications, high frequency data streams for financial analysis and event, speech, and speaker recognition from audio sources. BrainChip's SNAP technology can quickly learn, recognize, and track events in real time from multiple sources and identify repeating patterns in complex data streams. The Company currently provides software and hardware accelerated solutions that address high-performance requirements in Civil Surveillance, Facial Recognition, and Visual Inspection systems. Future solutions include audio analytics and deep learning for financial and other data intensive applications. www.brainchipinc.com.
Company Contact:
Cossette Drossler
VP Finance and Administration
+1 (949) 330-6754
Investor Contact:
Laura Guerrant-Oiye
Principal
Guerrant Associates
+1 (808) 960-2642
Email Contact
Source: BrainChip Holdings Ltd.