BrainChip to Present at TechKnow Invest Roadshow 23.09.2018
SAN FRANCISCO, Sept. 23, 2018 (GLOBE NEWSWIRE) — BrainChip Holdings Ltd. ("BrainChip" or the "Company") (ASX:BRN), the leading neuromorphic computing company, is pleased to announce that the Company will be presenting at the TechKnow Invest Roadshow in Sydney, Australia on 30 October 2018 and Melbourne, Australia on 1 November 2018.
The presentation will include information on recent commercial developments including the Akida Neuromorphic System-on-Chip architecture.
TechKnow is one of Australasia's premier technology investor events and provides companies with the opportunity to present to a diverse range of investment audiences including institutional investors, brokers and private investors. Further information on the event can be found at: http://www.techknowinvestroadshow.com.au
About BrainChip Holdings Ltd. (ASX: BRN)
BrainChip Holdings Ltd. is a leading provider of neuromorphic computing solutions, a type of artificial intelligence that is inspired by the biology of the human neuron. The Company's revolutionary new spiking neural network technology can learn autonomously, evolve and associate information just like the human brain. The proprietary technology is fast, completely digital and consumes very low power. The Company provides software and hardware solutions that address the high-performance requirements in civil surveillance, gaming, financial technology, cybersecurity, ADAS, autonomous vehicles, and other advanced vision systems. www.brainchip.com.
Company Contact
Robert Beachler
rbeachler@brainchipinc.com
+1 (949) 330-6750
Media Contact (US):
Kerry McClenahan
Publitek North America
kerry.mcclenahan@publitek.com
+1 (503) 546-1002
Investor Relations:
ir@brainchipinc.com
Media Contact (Europe):
Nayl D'Souza
Publitek
nayl.dsouza@publitek.com
+44 20 3813 6423
Media Contact (Australia):
Alexander Liddington-Cox
Media and Capital Partners
alex.liddingtoncox@mcpartners.com.au
+61 474 701 469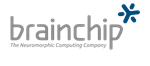 Source: BrainChip Holdings Ltd.